Seahorse (a.k.a. Hippocampus) - Symbol of Hope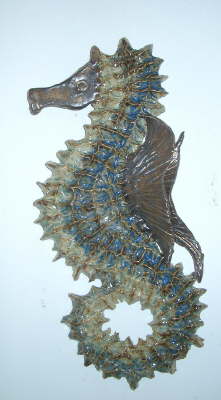 The seahorse, also known as the hippocampus, is created as a symbol of hope to help those afflicted by dementia. The hippocampus in the brain is so named by its resemblance to the seahorse. Deterioration in the cells of the brain's hippocampus results in memory and cognitive loss, characteristic of those afflicted by dementia and Alzheimers.

Nancy's seahorse wall pieces come in all shapes and sizes, and each one is crafted individually. No two are alike - just as no two brains are alike and no two people with dementia will exhibit the exact same symptoms.

Proceeds from the sale of Nancy's seahorses will be donated towards Alzheimers Research.

Dedicated in memory to Daan Cramer.

​Contact Nancy at ncramer @ tidelinespottery.com for more information.





---